All prices exclude VAT, which will be calculated in the shopping cart.
The shipping weight shown in the cart is NOT the actual weight of the items. It is a figure used within our shipping system to calculate the correct tariff for your order.
If in doubt why not pay us a visit? We have a sales office, a showroom, warehouse, garage workshop, fibreglass factory, bodyshop / paintshop and MOT station on site.
Knight-Racer started from importing Japanese performance cars around 10 years ago including Toyota Supras, Nissan Skylines and Evo's. At the time every Japanese performance car was considered a grey import and aftermarket parts were incredibly difficult to get hold of, let alone any chances of finding a part in stock in the UK.
We began at our early stages importing small quantities for stock. With our hard work and commitment, providing products to customers with minimum hassle meant we are now able to hold over £100,000 worth of UK stock and also have a factory in the Far East who we work together with design and development of new products especially our Carbon Fibre range, which is forever growing.
On site in Milton Keynes, UK, we now house our own FRP factory with highly experience crafters with the ability to manufacture our own FRP products and deliver them at the fastest times possible and also at the best possible prices, cutting out the middle man, agents, shipping fees, shipping times and import duties. We can also monitor 100% of the quality control and also manufacture any one-offs which you may want.
Knight-Racer also offer a complete bodyshop, repair and bodywork customisation service from panel repairs, full car resprays and customised projects see our Customer Gallery.
Besides the bodywork modifications, we also carry out a lot of insurance repairs for customers who want their cars repaired by the specialists on their cars.
We also have our own fully equipped garage workshop with several ramps, fitting bays able to carry out servicing and MOT's to engine upgrades and rebuilds.
Due to infinite times of requests when we carry out bodywork projects for customers, Knight-Racer have recently launched our Performance Parts sales line and have now become authorised dealers for most top brands of products.
We at Knight-Racer are a team of enthusiasts aiming to offer the best quality of products, paintwork and services to fellow enthusiasts. We are official traders on all main Japanese car forums, contributors and exhibitors at all major car shows and events see Shows and Events Gallery, regular participants at car meets as well as hosting open days. Not forgetting our very own Knight-Racer girls who you will have the chance to see at the big shows and our photoshoots see our Photoshoot Gallery.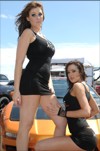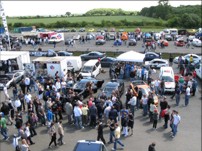 Please pay a visit to our Showroom to check out our latest products, and at the same time you can discuss your requirements on any projects with our team and also view and inspect the products themselves. Otherwise, we have a huge mail order department, just email or call us to place your order and we will dispatch products as soon as possible to your door step (often next day!).