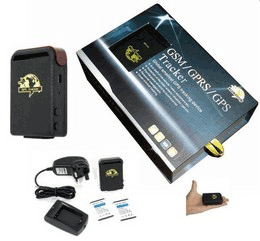 The Only Tracker - with NO Subscriptions Required

This state of the art device can be used for all purposes. Acting as a safety feature for your motor, mobile properties, or even keeping the eye on your pets, children or the elderly. Or even use it as a key ring in case you lose it. All this, without any subscription charges, and there is no commitment to any contracts.
Key Features:
Compact Size, a packet of matches
Real Time Tracking (with the use of a mapping software i.e. google map
Overspeed Alert (Text you when it goes over a set speed)
Movement Alert (Text you when it moves from stationary, i.e. if your car is on the move without you knowing)
Voice Surveillance (Listen to the unit where they cannot hear you)
Auto Tracking (Text you for a set number of times over a set time)
GeoFence Alert (Text you as soon as the unit goes out of the set boundary)

This GSM audio GPS tracking spy device provides the user with the ability to remotely listen to anything in the vicinity of the bug simply by calling the SIM card mobile telephone number plus the ability to track its location instantly. Described by the manufacturers as the world's smallest GPS tracking device, it is easy to use and superior to other devices available currently in the UK and European markets.
This high technology solution is designed for audio surveillance and monitoring using widely available mobile phone access and the ability to determine its location by SMS text.
Now anyone can use covert surveillance with multiple applications. The unit itself is compact and well constructed with a highly sensitive microphone capable of hearing and transmitting any voice or other audible sounds in most rooms or from a vehicle etc.
This unit runs silently, target subjects are entirely unaware of its presence.
This unit has exceptional functionality, not only does it allow you to listen to what is happening in its vicinity from any remote location, (you can be anywhere in the world), it also tells you where the unit is using GPS coordinates AND allows you to set the parameters within which it may travel and alerts you if it travels outside that preset district, allows you to know when and if it begins moving, and when it travels faster than a preset speed determined by you!!
Perfect for tracking vehicles/heavy equipment, provides protection for children, the elderly, pets
etc and allows covert criminal tracking.
You will need to insert a working sim card into the GPS unit. Whenever you send a text message to the unit it will respond with coordinates of where it is located. You can use thesecoordinates on any mapping software (for example google earth) which will show whereexactlyyour object is. You can request the unit to constantlysend you coordinates at specificintervals (minimum 20sec), or send you xnumber of positions every i.e. 30 sec. By doing so you can then simply watch the vehicle movements on Google Earth or Google maps (see image on the right)

Technical specifications:

Dimensions 64mm x 46mm x 17mm

Weight 50g
Network GSM/GPRS
Band - 850/1800/1900Mhz or 900/1800/1900Mhz
GPS chip - SIRF3 chip
GPS sensitivity -159dBm
GPS accuracy of 5m
Time To First Fix Cold status 45s Warm status 35s Hot status 1s
Car charger 12—24V input
Wall charger 110/220 v input 5V output
Battery - Chargeable changeable 3.7V 800mAh Li-ion battery
Standby 48hours
Self contained microphone, capable of picking up sound up to 10 metres from the unit
Universal GSM SIM card compatibility
Full instructions provided
This unit is not suitable for 3G networks
Local demonstrations can be arranged, please enquire.
£ 249.99 (Trade / Fleet Enquiries Welcome)